>
Reviews
>
Bitdefender Antivirus
Bitdefender Antivirus Review
Eddy Wright, Editor

Overall Rating:

9.56 / 10.0
Overview
If popularity is the game, then Bitdefender would no doubt land one of the top spots, having more than 500 million users. Not very surprising, given the continuous improvement of the software's interface and the constant updating of its extensive database of signatures.
Founded in 2001, Bitdefender has come to be one of the most trusted antivirus and antispyware programs in the market – a fact that both home and business users can agree on. What is not to love about Bitdefender? It protects computers and mobile devices from viruses while protecting them from cyber threats and online attacks. This is not just talk, as the software has been tried and examined by many individual testing bodies like AV-Test, which gave Bitdefender the Best Performance Award for 2015 and PC Mag which granted the software the title of Editor's Choice for Security mega-Suite in October 2015.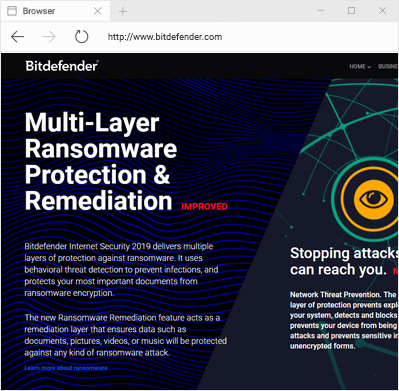 Features
Secure Browsing
Email Security
Automatic Updates
USB Virus Detection
Gamer Mode
Support
Round-the-clock Support
Phone Support
Chat Support
Email Support
Forum Support
Knowledgebase and Tutorials
Software is compatible with the following operating systems:
Windows XP, 7 & Vista
Windows 8 & 10
Macintosh
Android
Pros and Cons
Pros of Bitdefender
Highly effective premium real-time virus detection and removal
Hassle-free installation and use
Great value for money
Cons of Bitdefender
Installation requires restarting, so it is best not to install the software while you are working on your computer
Protection for tablets or smartphones does not come in some packages
Ease of Use
Installing the software is pretty straightforward, but you cannot do it while you are in the middle of something, as you are required to restart the PC in order to complete the installation. Restarting is also required in uninstalling the program.
Bitdefender featuresan easy to read and easy to use interface that allows users to access all the software's features in just one dashboard. No matter if it's parental controls, firewall settings, virus scanning or system optimization that you want to use, you can easily do so in just one window – no need to open other windows that could lead to confusion.
Reliability
Bitdefender is one of the best antivirus and antispyware programs available in the market today, not only because of the protection it gives but also in the way it performs optimally without compromising the performance of your computer. It actively blocks viruses from entering your system, and in the event that some threats slip through the security protection shield, they would quickly be detected and removed. In addition to this, Bitdefender running in the background does not affect the performance of your system at all.
Bitdefender places higher than most antivirus applications in the market in terms of reliability, thanks to the many features it has, depending on the package.
Customer Support
Bitdefender offers many support options, one of which is the knowledgebase you can find in the Bitdefender website. This is the go-to page for issues that users commonly encounter with the antivirus software. The website also offers some tutorials for help with some of the functions of the program.
Users can also get help by calling the Bitdefender hotline or by initiating an online chat with one of Bitdefender's tech support agents. You can also email them or call them. If the issue is not very urgent, you can also opt to read up on the Bitdefender forum about common issues.
Value for Money
Bitdefender is highly regarded for its excellent performance, efficient real-time protection and outstanding threat detection features, which is why most people are surprised to find that the antivirus and its different packages come at really affordable prices. Not only that; Bitdefender also comes with a 30-day money back guarantee. If you find yourself even just a tiny bit unsatisfied with the protection Bitdefender provides, then you can call customer service for a refund, no questions asked.
Features
Rescue Mode. There is no perfect antivirus program, so it is not entirely impossible for some threats to get through. But Bitdefender has a solution to this issue: the Rescue Mode feature, which notifies you of the threat so you can remove it. This is especially helpful for hidden threats that attach themselves to the computer's operating system.
System Monitoring Settings. This feature keeps Windows system security patches updated, thereby lessening the possibility of online threats.
Vulnerability Scanner. This feature scans your computer and notifies you about outdated or missing software, so you can make the necessary modifications to your computer.
Autopilot mode. When selected, this feature takes care of detected issues on its own, without disturbing you with pop-up alerts.
USB Immunizer. This feature blocks unwanted malware from USB drives.
Internet Security. This feature monitors and block malicious websites, scans emails and filters information so none of your critical data ever leaves your PC without your authorization.
The Bottom Line
Top of the line performance, safe and secure browsing, zero impact on computer performance and an interface that is a breeze to read and use all wrapped in affordable packages – this is what Bitdefender is all about. Bitdefender's wide range of features and functionality is topnotch, which is why the software unsurprisingly wins awards year in and year out.