>
Reviews
>
Norton Antivirus
Norton Antivirus Review
Eddy Wright, Editor

Overall Rating:

9.66 / 10
Overview
Considered as one of the most trustworthy antivirus solutions in today's market, Norton – which is developed and distributed by Symantec, a global leader in cyber security – provides wide-ranging antivirus protection for different devices. Aside from being certified for malware detection and removal by West Coast Labs and ICSA Labs, Norton has also earned a perfect score from the AV-Test Institute. This antivirus has also been examined by other independent bodies, and was found to have identified and blocked about 80% of recognized threats.
Easy to install and very user-friendly, Norton Antivirus is regarded favorably for its highly intuitive system of detecting and removing viruses and other threats – therefore making it a delight to use, especially for users that are not very tech-savvy.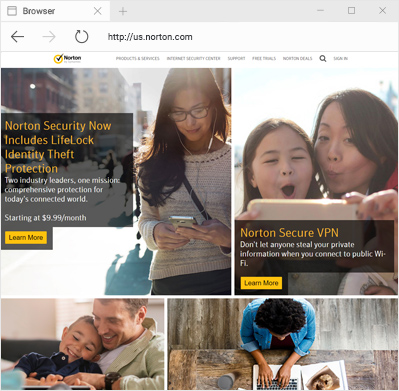 Features
Secure Browsing
Email Security
Automatic Updates
Gamer Mode
Support
Round-the-clock Support
Phone Support
Chat Support
Email Support
Knowledgebase and Tutorials
Software is compatible with the following operating systems:
Windows XP, 7 & Vista
Windows 8 & 10
MacOS
iOS
Android
Pros and Cons
Pros of Norton
Blocks malicious URLs
Works well without taking up too much of the resources of your device
Great scores for malware cleanup
Cons of Norton
Parental controls are provided only for Norton Security Premium
Advanced customer support not offered free; if you need more help you need to pay for it
Ease of Use
Norton antivirus is fairly easy to install, guiding users with a step-by-step procedure as the installation progresses. The software installs quickly and does not take too much space, as the application has a smaller size compared to other antivirus programs.
Not only is the software quick and easy to install. The whole program is also easy to use. If you need to perform a quick scan, do a full scan on all of your computer's drives, make backups of your files or execute performance optimizations for your system, you can do so with just a single click. With a user-friendly and highly intuitive interface, Norton's easy to read dashboard has all you need todetect and remove threats that can compromise your computer system.
Reliability
Both AV-tests and individual tests performed on the software has shown Norton achieving a perfect score for detecting zero-day malware and widespread malware, whereas the protection most antivirus software give against zero-day malware is 98%.
However, Norton was found to identify legitimate software as malware four times during a scan, whereas the most antivirus programs make only three mistakes on average.
Customer Support
Customers are provided with a variety of customer support options that include a knowledgebase of articles and an FAQ section found in the Norton website, phone support, chat support and even a forum where Norton users can ask questions about the software and share experiences and solutions to different issues with the software.
However, support for more advanced concerns and technical help is not free; you must purchase different support packages if you want higher-level concerns resolved.
Value for Money
Norton has average detection rates for viruses and threats, and its various packages are sold at reasonable prices, compared to the top antivirus programs in the market today.
Norton antivirus does not only come with reasonable prices; every Norton subscription comes with a guarantee, which is called the Norton 100% Virus Protection Promise. This guarantee ensures that your device remains virus-free for the entire duration of your subscription, or you will be refunded the amount you paid for the software.
In addition to the affordable price and the Virus Protection Promise, Norton also promises a 60-day trial period. If you are not satisfied with the antivirus for the first 60 days of your subscription, you get your money back.
Features
Real-time Scanning. Norton boasts of real-time virus scanning that blocks 80% of threats. However, it is easy to miss virus alerts because they just pop up on the screen and disappear all of a sudden.
Spyware & Malware Detection and Removal. Norton is a widely recommended antivirus due to its efficiency not just in detecting but also removing threats immediately, even if the system is still being scanned. The antivirus has a 51% block rate for malicious URL, thereby protecting your computer against harmful websites.
Email Scanning. PC Mag ran tests on Norton's email scanning feature. Although the antivirus failed to detect 10% of the spam mails received, Norton did not block any valid email so you are sure that none of your emails will get directed to your spam folder.
Protection against Harmful Downloads. One of the features of Norton antivirus is the live site advisor, which scans online content to make sure that your web browsing is safe from spam, spyware and phishing. You also have the option to configure the settings for download protection.
Parental Control (for Norton Security Premium). This feature allows you to restrict websites for all devices, so you can control your child's Internet usage. The feature also includes reports on usage, so you can modify restrictions as needed.
The Bottom Line
Full antivirus safety, firewall defense, identity and financial security, email scanning, spam blocking, password management and backup storage – depending on the package, these are just some of what Norton antivirus offers. Overall, Norton is an impressiveand ideal antivirus program, despite some areas that need to be improved on.