Meet Local Singles in California
eHarmony Review
John Smith, Editor

Overall Rating:

9.3 / 10
Overview
eHarmony is a dating website founded on the belief that there are better ways of dating—that is, rather than leave it to luck, or fate, it should be based on compatibility. The website was born in 1997 and was founded by Dr. Neil Clark Warren, a clinical psychologist who had worked with hundreds of married couples over a period of 35 years. Using his experience, observation, and three years' research, he learned that using certain compatibility points, partners who share such compatibility may enjoy fulfilling and long-lasting relationships.
Moreover, aside from the United States, the company has already spread to other countries such as the United Kingdom, Canada, and Australia. The website is complemented by its own dating advice site.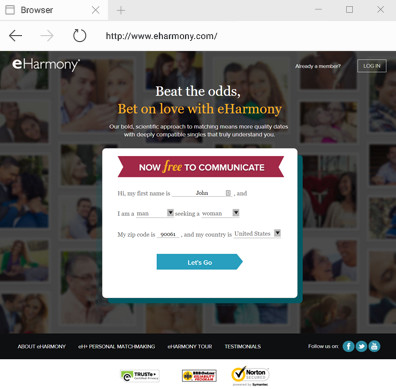 Member Base
Member Base
66 million

Although it initially gives you an option to select a same-sex partner, it is primarily designed for heterosexual couples. Warren used to explain that it is because his background and expertise are more geared toward heterosexual than same-sex partnerships or marriages. Nevertheless, to address the need, the company sets up Compatible Partners. eHarmony accepts members who are 18 years old and above.
Visitors per Month
4.1 million visits per month

Its popularity rivals Match.com.
Gender Ratio

48%

52%
Its gender ratio is comparable to that of other dating websites.
Pricing
Total Connect is charged in three installments for $71.90. The website also renews the membership automatically within 24 hours before its expiration.
EHarmony also has another premium subscription called EH+. Under this subscription, users can deal with a matchmaker or a dating specialist who they can meet online and offline. The features that can be enjoyed by users depend on the subscription plan chosen, although these may include date arrangements and background checks on potential matches.
Pros and Cons
Pros
It has an extensive database of users.
It is founded and maintained by individuals who have expertise in dating and relationships.
Its dating advice site offers a wide range of tips and features that will be helpful to users.
It tends to have a good success rate in terms of helping users find the right partners.
It emphasizes long-term partnerships including marriage.
The website has excellent safety features such as RelyId and Secure Call.
Cons
It is possible to receive zero matches in a day.
There is no Search option as matches are based on the answers to the questionnaire or information found in your profile.
The premium plan can be limited.
Features
Match system. The website generates potential matches automatically.
What if. The what-if feature presents people who are slightly out of your preferences but may share your interests and other information like age and education. Each profile will be shown in a summary view, which means only basic details are provided, and you cannot proceed with the other what-if matches unless you decide to communicate or not with them.
Dating Advice site. EHarmony runs its own dating advice site where users and non-users can learn anything they like about building relationships and meeting their match. Everyone can subscribe to the newsletter even if they do not sign up to the website.
RelyId. This is available under premium package, which provides verified accounts with a badge that increases their credibility in the website.
Premium Book of You. This is EHarmony's version of a comprehensive profile analysis of the user.
Gift subscription. Users and non-users can gift a subscription to anyone they believe need the services of the website. You can choose among three plans. These include:

Best Value (12 months): $19.65 per month
Popular Choice (6 months): $29.95 per month
Starter (3 months): $39.95 per month

SecureCall.This is a premium feature that lets matches talk on the phone without revealing the actual phone number of the caller.
Sign Up Process
eHarmony uses its patented Compatibility Matching System during the sign-up process. During the registration, you are asked several questions pertaining to personality, lifestyle, hobbies, interests, religion or spirituality, and the factors you are looking for in a potential partner, such as their location, lifestyle, appearance, and education. It may take around 10 minutes to complete. The website also prompts you if your successive choices to questions are similar, encouraging you to think every answer through for a more accurate match.
The website also lets you sign up using your Facebook account, and you can use any of your photo in the social networking website as your eHarmony profile picture.
Member Diversity and Quality
User Base and Popularity
Monthly Visitors: 4.1 million
Male Users: 46%
Female Users: 52%
Age Bracket of Users
18 – 24: 30%
25 – 34: 18%
35 – 44: 20%
45 – 54: 18%
55 and up: 14%
Ethnicity
Caucasian: 77%
African American: 9%
Hispanic: 8%
Asian: 5%
Others: 1%
Educational Level
Graduate Degree: 15%
Bachelor's Degree: 45%
High School level: 40%
Success Rate
To date, the Los Angeles-based website boasts of around 438 couples who get married every single day. These individuals are the ones who found their match through eHarmony using its Compatibility Matching System. At least 2 million marriages have already happened due to the website, with a divorce rate of less than 4%. In a study among its users, 57% said they found love using the website while 29% mentioned that they had a relationship with another member that lasted for more than a month.
Safety and Security
eHarmony has added security features like RelyId and Secure Call to protect its users from potential scammers who are members of the website. Its dating advice arm, on the other hand, gives up-to-date relevant information on how to stay safe when using the website or even that of its competitors.
Ease of Use
The website does not have a Search option, but rather, the system provides you with everyday matches chosen based on your answers during the registration or in the questionnaire. In the dashboard, you have features such as Dig Deeper, Makes or Breaks, and Quick Questions, which allow you to get to know a potential partner more. Moreover, you can exchange private messages, which you can access through the company's personal e-mail system.
The layout is sophisticated but easy to navigate, which makes it helpful for people who have less experience in using dating websites.
The Bottom Line
EHarmony may not be as cheap as other paid dating websites, but it has a very strong reason to charge handsomely: a good success rate. Moreover, it is attractive for people who are looking for long-term commitment. However, users may also be forewarned of potential fake profiles and the possibility they may not be satisfied with the number and kinds of matches the system provides them.